Party
EDEN 2022
2022.06.03 - 05
Kawaba Ski Resort
Ticket Buy via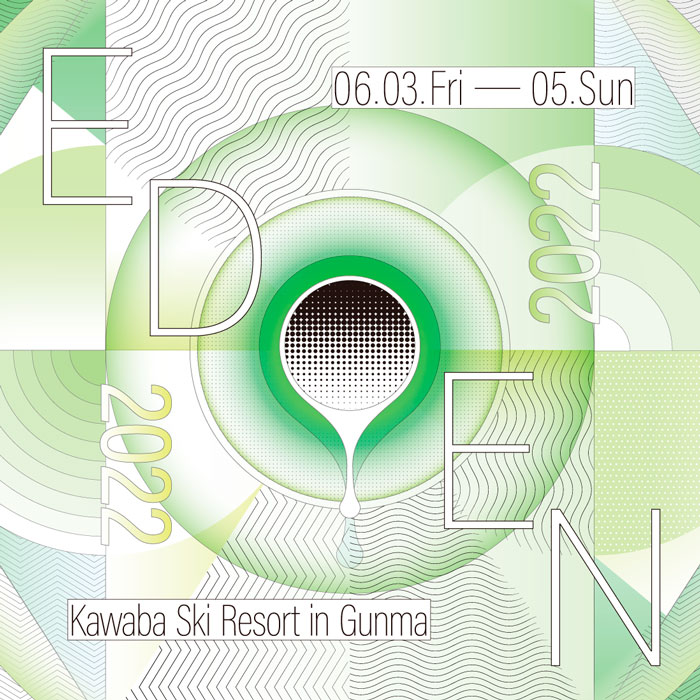 Line Up -
Tobias.-Live / Mike Parker / Dino Sabatini / NESS / Psyk / Feral / Kuniyuki-Live / 悪魔の沼 / DJ YAZI / Shhhhh / Gonno-Chill Out Live / YUKIMASA / Tasoko / YSK / Qmico / YUTA



Sound Design


d&b audiotechnik by MMU
SOL



Space Design


Kanoya Project
MirrorBowler
Heaven Hug Design
STRETCH TENT COMPANY



VJ


100LDK
Naoto Tsujita
KOTA
今年も美しい田園風景が広がる自然豊かな群馬県川場村に佇む川場スキー場、雄大な武尊連峰に囲まれた標高1300mにいよいよ海外アーティストを迎える。さらには選び抜かれた日本が世界に誇る精鋭アーティストを招聘、LDGならではのラインナップとなった。
フェスティバルの最重要項目となるサウンドシステムはLDGのカラーであるd&b audiotechnikをインストール、奥深い表現力で心ゆくまで没入してほしい。空間デザインにはKanoya ProjectとMirrorBowlerにHeaven Hug Designが昨年を凌駕する作品を会場に施す。
ホスピタリティが高い川場スキー場、クオリティの高いBARとFOOD、アクティビティにテントサウナと移動図書館に温泉シャトルバス、芝生のダンスフロア、山深いロケーション、満天の星空が迎える天空の楽園EDENを体感せよ。
This year, LDG will finally welcome overseas artists to Kawaba Ski Resort, located in Gunma Prefecture. Surrounded by beautiful countryside and the majestic mountain at an altitude of 1,300 meters. And selected artists that Japan's proud to present to the world have been invited, a lineup that only LDG quality.
The sound system, the most important element of the festival, we have installed d&b audiotechnik, the color of LDG. For the space design, Kanoya Project, MirrorBowler, and Heaven Hug Design will create works that surpass those of last year.
The hospitality of Kawaba ski resort, high quality bar and food. Activities, tent sauna, hot spring shuttle bus, library for kids. A Lawn dance floor, deep mountain location, starry sky. The theme is "Paradise in the Sky", experience EDEN.