Party
Spring Equinox
2021.3.20.SAT - 3.21.SUN
Peace & One in Yamanashi
Ticket Buy via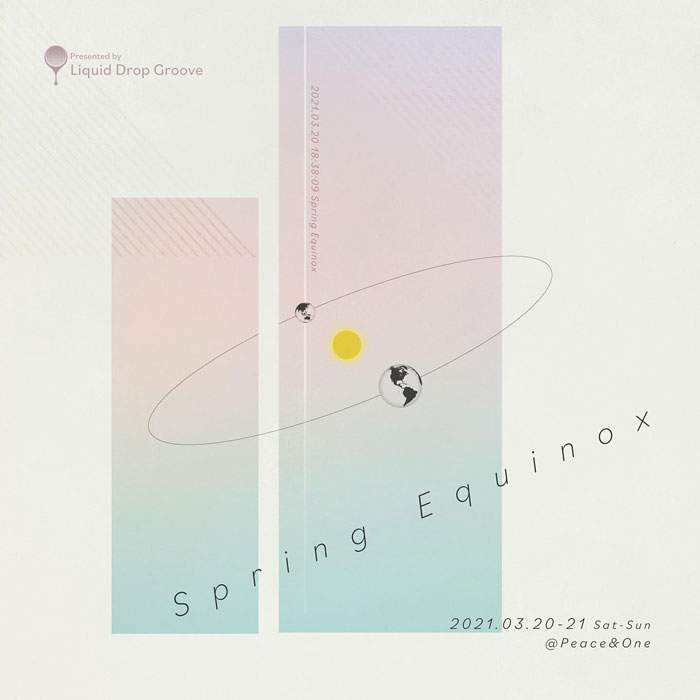 Line Up -
DJ Nobu
Wata Igarashi
COMPUMA
山頂瞑想茶屋
Shhhhh
YUTA
Tasoko
Masafumi Take
Qmico
Mari Sakurai
aluca
Yukari Okamura
Dsk
Soncho



Sound


MMU / d&b audio technik



Deco


Kanoya Project



VJ


comboy
パーティのコンセプトは「春の訪れを祝うギャザリング」だ。春分の日は、昼の明るい時間と夜の暗い時間がほぼ均等になり、夜が長かった冬が終わり段々と日が長くなり春へと向かい始める。フライヤーは「春分の日を天体で表現・春が向こう側にあるデザイン」をテーマに作成。

会場は富士山や河口湖も程近い、山梨県富士吉田市の人里離れたエリアに佇むPeace&One。

ラインナップはクオリティが約束されたベテラン勢に、東京クラブシーンで頭角を表した次世代と、沖縄や大阪のテクノプロデューサー、世代も音楽性も幅広いアーティストの出演が決まっている。

会場内では、COVID-19感染拡大防止のための衛生対策も実施、150枚限定のチケットはRAにて販売です。

We are very happy to announce that Liquid Drop Groove will hold its first open air party of 2021 on March 20th & 21st.

March 20th is Spring Equinox and so the concept of the party is "A gathering to celebrate the arrival of spring."

Spring Equinox is the time when the hours of Daylight in a day equals and then surpasses the hours of Darkness. The day when the long winter is finally over and the excitement of summer is just around the corner…

The flyer includes a design that expresses the feeling of the spring equinox with the celestial bodies and an image of spring all around.

The venue will be Peace & One in Fujiyoshida City, Yamanashi, near Mt. Fuji and Lake Kawaguchi.

The lineup includes DJs from a wide range of generations and musical styles, including DJ Nobu, Wata Igarashi, COMPUMA and Shhhhh to name a few. Also making appearances are Mari Sakurai, organizer of 2020's open air rave SLICK, and Osaka-based producer Yukari Okamura.

Special care will also be taken at the venue to prevent the spread of COVID-19 infection.

A limited 150 tickets are on sale at Resident Advisor.