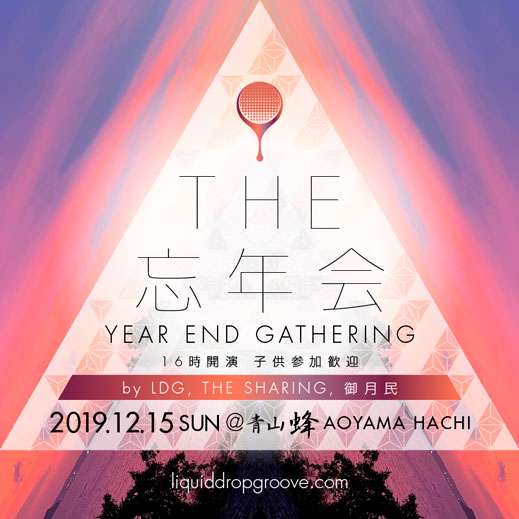 Line Up -
2F LDG Downbeat


Atika Altar (Interstellar) from Singapore
山頂瞑想茶屋
BRUNA (Veta)
Yoshitaka Shirakura (Conflux, Konvektion)
YUTA (Liquid Drop Groove)



3F LDG Psychedelic Techno


Takaaki Itoh (WOLS)
SAKI (Liquid Drop Groove)
DJ G. & Oryu (ザ・シェアリング / The Sharing)
Tsutomu (Sawagi Festival)
mu"he (FUSION)



4F 御月民 Techno / House


CHOKO (Digitalblock)
KOJIRO (Re:birth Festival)
Ayana JJ (Smitten)
AYUMI (Unshelter)
MGTM (御月民)



SHOP


2F サイババキッチンあべんべ@COCOTABLE
4F HappyShake
LDGを軸に、独特なコンセプトで大人の遊び人が集うパーティ "The Sharing" と、テクノシーンにおいて若手を代表するクリエイティブ集団 "御月民" による合同忘年会!

シンガポールからは東南アジアのテクノシーンを引率しLDGがプッシュするAtika Alterの来日を筆頭に、LDGとの親交が深い日本が誇るテクノキングTakaaki Itohと、ダウンビートマスター山頂瞑想茶屋を迎え、Re:birthやSawagiなどの主要メンバーも交えた盛大な宴となる。

本パーティを開催するにあたりまして、感謝の気持ちを込めて忘年会という形で一年のお礼をお伝えできましたら幸いです。当日はお子様も入場可能ですので、お気軽にお立ち寄りください
LDG presents Year-End Party collaborated with "The Sharing" has an unique concept where adult audience in the underground scene have been gathering, and "御月民(Otsukimi)" to Techno scene that is the creative party collectives of young generation.
Those artists are going to be featured in this Year-End Party that :
"Atika Alter" from Singapore who is leading the Techno scene in Southeast Asia and has sounds like a LDG.
"The Japanese Techno King Takaaki Itoh" who has a close relationship with LDG and he is top of top Techno DJ in underground that Japan boasts to the world.
"The Downbeat Maestro 山頂瞑想茶屋(Sancho Meiso Chaya)" and also some leading top DJs and promoters from Re:birth Festival and Sawagi Festival.
We would like to have this Year-End Party as an appreciation for all of you who has been involved with us in this year. Children are super welcomed to this party, so be freely to come!